It is essential to carry out video interview preparation before a pre-recorded video interview commonly known as a video interview and online interviews. Both video and online interviews are a very cost-effective way for organisations to carry out recruitment. During the current pandemic, this is the only way interviews could be carried out. It is difficult to know if online interviews will continue or whether face-to-face interviews will resume once restrictions are lifted. Online interviews are a great way for organisations to carry out interviews quickly pulling interview panels together without consuming valuable time due to travel and in some cases enabling people to join from across the world. It is likely that pre-recorded video interviews will continue for highly competitive roles such as for apprenticeship and graduate interviews.
It is often more difficult in an online interview, video interview or pre-recorded video interview to get across your energy and enthusiasm compared to a face-to-face interview. Some recruiters use artificial intelligence software to assess candidates motivation through facial expressions and voice energy levels. you might want to read AI Interviews – How To Prepare For Video Interviews.  Additionally, an online interview coaching session can help you get the job you want. We often hear about clients having technical problems with their video interview so some basic video interview preparation is essential to ensure that the interview goes well.
Download Interview Preparation Guide
1. Always test the WI-FI connection
With most online platforms you can test the connection before the interview. Make sure you have downloaded any necessary software such as MS Teams or Zoom. Often you need to accept the invitation link beforehand. Ideally, aim to do this 2 days before your interview so you can contact the recruiter if there is a problem.
2. Buy an Ethernet adapter or cable
Test your WI-FI signal and if necessary buy an Ethernet adapter or cable to have a stronger and faster internet speed. .
3. Check lighting
You need good lighting and be aware that some office lights or tubes can create a 'flicker' effect which the camera picks up. Sit with the window in front of you, not behind you. Try adding some front light to lighten up your face.
4. Check your camera and microphone level
If you have an external microphone that you can plug in to the computer, then do so. The quality of the microphone from most devices is poor and will flatten your voice level, often resulting in a dull tone of voice. An external microphone is not expensive and will give you the flexibility to move back from your webcam and still have great quality sound. If you are using an internal webcam, test it out to see how you look. Some internal webcams are at the bottom of the screen, resulting in a very unflattering picture looking up your neck and nostrils. It might be worth buying a separate webcam. Another option is to book an online video interview coaching session where the quality of your set-up and answers can be assessed.
5. Appearance
Don't wear a shirt or top which plays havoc with the camera , choosing plain colours can be best, Ensure that your top isn't a similar colour to your background, otherwise you could merge into the background! Keep the background neutral behind you. You don't want to be seen sitting in your bedroom. Remember, you can blur your background on my platforms like Zoom and MS Teams. Some people like to use the chromakey backdrop feature but test this out as it often doesn't work very well and it can be distracting.
6. Agree a reconnection plan
At the start of the interview, agree a reconnection plan with the interview panel if the signal is weak. You will probably have to move to a telephone interview so note their number and have a phone to hand. If you are reliant on your mobile then ensure you have a strong signal and that the phone is fully charged before the interview.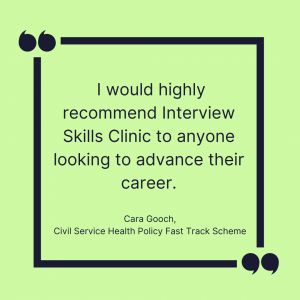 7. Know who's interviewing you
If possible, look up anyone who is interviewing you in advance on LinkedIn.
8. Check how to share presentations
If you are sharing a presentation make certain you know how to do this before the interview, any IT hiccup can be a big distraction and create interview stress.
9. Don't fidget
Don't move around too much – it is very distracting and remember facial expressions are accentuated it's all they have to look at!
10. Make a test call
Arrange to connect with a friend or partner beforehand so that you can carry out a test run.
Mannerisms are accentuated on the screen and it's only you they have to look at so keep your hands on the table, speak and then listen, don't speak quickly and be clear and concise when giving your answers and of course smile occasionally!
Book Free Consultation